We hope you're enjoying a safe, fun holiday season this year. Be sure not to miss the final days of our 12 Days of Winter in-game gifting. We have plenty of surprises and delights left!
Throughout the course of 2016 we've been working on all of our studio social media images and graphic design studio brand elements with the talented graphic designer Cory Schmitz. He's created every holiday post image you saw this year. Cory even helped us refine and re-design our studio logo that we unveiled back in May. For the holidays, we enlisted his help and the illustration assistance of the ultra-gifted artist Lily N. to create this image: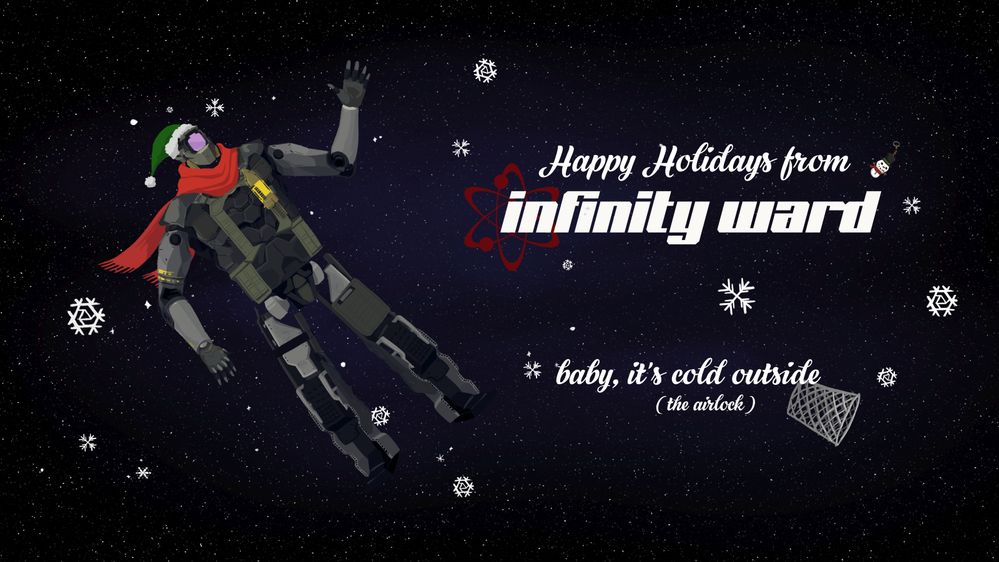 Pretty cool, right? There are some subtle hints to some of our community conversations in there and, of course, the beloved Ethan is the star of the art.  
We have so much more great Infinite Warfare content in the New Year that we're excited to share with you. We'll have more details and specifics over the coming weeks. For now, let's gear up and evil. After all, the holidays are nearly over but there's plenty of unfettered holiday playing hours of Call of Duty left. So, here's to kicking off a great 2017!  See you online!